By: Rudy Nelson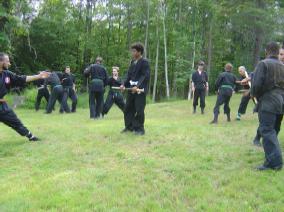 Judging by the smiles on the faces of this year's participants, the 6th annual Bufu Ikan Ninja Camp was a tremendous success.
On the morning of Friday June 16th a convoy of Ninjas and a Husky named Ryu made their way to the Muskokas for a weekend packed with learning, bonding, and fun. Within less than an hour we had escaped the big city leaving behind us the worries of every day life. Jai graciously arranged for us to stay in a large, comfortable lake side cottage owned by his family. As we pulled up to the cottage, Nature's welcome committee awaited: a deer and her two young fawns looked on from the nearby woods across the street as we unpacked our vehicles and setup camp.
Some members of the team setup sleeping tents around the cottage, while others setup shop indoors in one of four bedrooms. Ryu made himself at home with everyone and even excitedly made a friend with one of the neighbouring dogs. The in-house cooking team of Rachel, Ben, and Ty wasted no time showing us just how well we'd be eating over the weekend. Light sandwiches, veggies, and fruit provided fuel for our afternoon training session. Over the weekend our team would be spoiled with barbeque dinners, pasta, garlic bread, and ample vegetables and fruit to sustain us through the demanding training.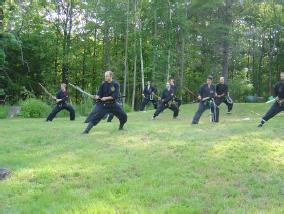 After a little digestion everyone geared up and eagerly headed outside. The grounds were ideal for training: Spacious, shaded on one side, and relatively flat surrounded by trees. Senior students setup cameras to capture what would surely prove to be a memorable weekend.
Students methodically lined up in Seiza as Sensei set the tone for the weekend with the training camp's opening ceremony. As we listened attentively, Sensei shared with us the weekend's agenda, the themes to be explored and the things we should expect to learn from them. Sensei further explained that there would be a lot to take in over the three days but that we should seek to enjoy the learning process, appreciate the beauty of nature, and above all have fun.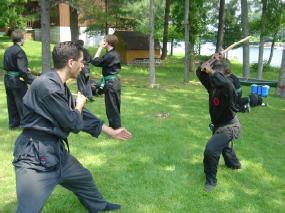 The weekend's training focused on teachings from the Togkure Ryu, Gyokko Ryu, and Koto Ryu schools with an emphasis on bojutsu (6 foot staff), hanbo jutsu (3 foot staff), and bikenjutsu (sword). Training would take place Friday afternoon, Saturday throughout the day, and Sunday morning although some might argue that we trained all weekend long. Throughout the weekend, Sensei's teaching style allowed students of all levels, from white belt to black belt, to learn from the same techniques at their own pace according to each individual's level of understanding and experience.
Beyond training, the weekend also offered a number of enriching experiences. Following dinner Friday night, the team gathered to watch movies from Sensei Eduard's private collection. The first movie, a rare documentary, showcased a young Hatsumi Sensei and his senior Shihans training in nature. Through the film, students were offered insight into the rigours of training with Hatsumi Sensei in the early 60s & 70s. Sensei Eduard's second gift to us, a black and white Japanese feature with subtitles, provided insight into the life of Ninjas at the turn of the 17th (???) century. Both Hatsumi Sensei, 33rd grand master of Ninpo Taijutsu, and his teacher, Takamatsu Sensei, the 32nd grand master of Ninpo Taijutsu, both collaborated to advise the production team on the historical and martial accuracy of the film.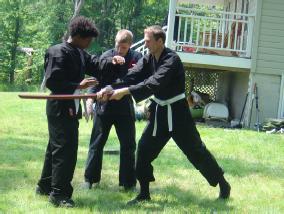 Saturday evening, following dinner, Sensei Eduard offered to create calligraphy for students. In so doing, Sensei Eduard carries on the tradition personally shared with him by Grandmaster Masaaki Hatsumi while in Japan. Sensei rarely offers this gift and those who took advantage had their weapons. Later that night we huddled around the dining room table for a personal viewing of some of Sensei Eduard's weapon collection. From shuriken to Metsubishi weapons were examined as Sensei offered a historical perspective into each of them. Silence befell the room as everyone took in the depth of the experience.
We later made our way to the back near the dock where a raging bonfire awaited. After some conversation Sensei surprised us with a game of strategy. Two teams were formed each responsible for defending their camp from the other team. Camps were positioned at opposite ends of the property. The absence of light made this the perfect playground for nocturnal stealth games. To our surprise, Sensei who had been dressed in light coloured clothing disappeared into the house only to 'reappear', in true ninja fashion, amidst his unsuspecting students — without a sound, without a trace. Sensei took this opportunity to demonstrate stealth techniques transmitted from generation to generation for our use while also offering suggestions for strategy. Some managed to remain under the radar for 30 minutes at a time, disappearing into the night, while others chose a more direct route consisting of deception and misdirection. It was a close game but most importantly everyone allowed themselves to become kids again.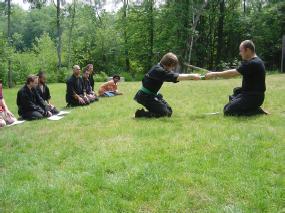 On Sunday, after training, we had the opportunity to work with Metsubishi (blinding powders). Closing ceremonies: Sensei Eduard honoured attendees with certificates and presented Jai a special dedication, a special calligraphy from Grand Master Masaaki Hatsumi (all the way from Japan). We later cleaned up and said goodbye to cottage life having a learned a little bit more about the art, about the its history, and each other.
Thanks to everyone who made this past weekend possible. A special thanks to Rachel, Ben, Tai, and especially Jai. And of course, thank you to Sensei for organizing a truly memorable event. We all look forward to next year's.
Shikin haramitsu daikomio